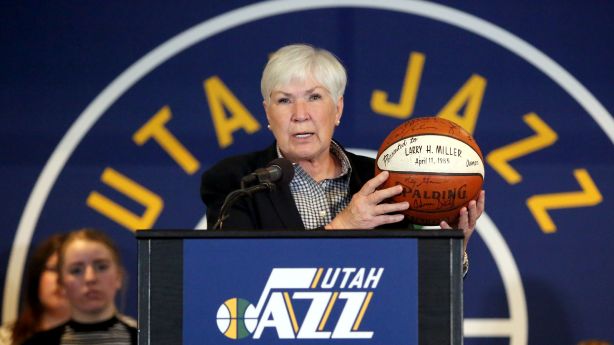 Jazz owner Gail Miller among Utah sports executives condemns violence, racism and injustice
[ad_1]
This news archive is available for your personal, non-commercial use only. The information in the story may be out of date or replaced with additional information. Reading or replaying the story in its archived form does not constitute re-editing the story.
SALT LAKE CITY – Last year, Gail Miller, owner of Utah Jazz, stood outside a crowded Vivint Smart Home Arena and spoke out against racism and discrimination against avid basketball fans.
Sunday, she started again, in a different place.
Miller became one of Utah's first prominent sports executives to speak out against the violence and destruction that swept across America over the weekend, but she wasn't the only one.
Across the state of Beehive, Utah leaders have spoken out against the violence caused by some protests – but unilaterally condemned the racism, discrimination and social injustices most protesters were fighting against in cities across the country – including Salt Lake City – after the death of George Floyd in Minneapolis.
"Hearts across America and in Utah are suffering as a result of events of racism, discrimination and injustice sparked by the recent and senseless death of George Floyd," Miller said in a prepared statement. "As I said on the basketball court at Vivint Smart Home Arena last year, 'We believe in treating all people with courtesy and respect as human beings… no one wins when respect goes away. ' I sincerely hope that we will work together, peacefully and respectfully, to end the abuse of all human beings.
"We must hold ourselves and those around us accountable and uphold the highest standards of decency. We need to approach each other with empathy and kindness as we continue to develop collaboration and, more importantly, inclusiveness and trust. "
A statement from Gail Miller, owner of the Larry H. Miller Group and Utah Jazz: pic.twitter.com/AIjVOh4UFh

– Larry H Miller Group (@LHM) May 31, 2020
Group CEO Larry H. Miller Steve Starks, who has been Miller's right-hand man in many ways since he was president of Jazz, also added his voice of approval and begged his friends to "have real conversations in your homes, families, churches and workplaces "about racism and tolerance.
"Like you, I felt deep sadness over the death of George Floyd and the hurt it caused in our communities and our country," he added. Starks wrote on Twitter. "Unfortunately, this is not an isolated incident and people are tired and angry. Instinctively, parents want their children to have the opportunity to plow clean soil without the challenges and hurts of the past. These shared desires testify to our belonging to the same family.
"May we be united and rise above injustice, division and hatred of all kinds. And may we expect our leaders to call on what is best in us, to promote peace, and to ensure a just and equitable distribution of law and justice. "
Like you, I felt a deep sadness over the death of George Floyd and the hurt it caused in our communities and our country. Unfortunately, this is not an isolated incident and people are tired and angry.

– Steve Starks (@StevenStarks) May 30, 2020
Jazz center Rudy Gobert also expressed disapproval of the violence surrounding Floyd's death. After retweeting a video of the incident showing former Minneapolis policeman Derek Chauvin kneeling on the neck of Floyd, who later died, the French star tweeted his own reaction.
"If you let your coworker do this to another human being without trying to stop him or tell him about it, you are as guilty as he is," Gobert said, according to Deseret News. "Frustrating for the majority of good cops who take a lot of risk by doing their job well every day. "
His Utah teammate Donovan Mitchell used a photo caption of actor Will Smith used in a recent episode of "The Late Show" with Stephen Colbert which read, "Racism doesn't get worse, it's filmed ".
"I woke up this morning and saw this!" Mitchell tweeted. "So true."
The Jazz were not the only ones to add their collective voice denouncing violence, but also racism and discrimination in Utah sports this week.
"SLC is not immune to the desperation and fear of underrepresented communities," Utah athletic director Mark Harlan wrote on Twitter. "As a leader, I need to do more every day to be more aware and act on their behalf.
"I urge everyone to demonstrate peacefully and avoid the violence we are witnessing. Causing more pain is not the way.
Utah women's basketball coach Lynne Roberts spoke on behalf of her coaching staff and in support of the many minority student-athletes she has coached.
"In these heart-wrenching times in America, my staff and I stand in solidarity with all of our student-athletes and the challenges they will face as young people in this world," said Roberts. "We will continue to listen, to seek to understand and to stand in solidarity with each other despite all the differences between us and the oppression that exists beyond sport.
"Utah women's basketball is a close-knit family that we are all proud to be a part of; and now more than ever, we are united and motivated to be agents of change.
Former Utah star Kyle Kuzma added his own "heavy heart" voice after Saturday night's protests.
"It's not fair," the current Los Angeles Lakers wing wrote on Instagram. "Violence is never the answer from both sides, but how the (expletive) do you want us to say enough is enough? Kneel? Not good enough? March? Not enough? Say please?
"It's all disturbing to come to this. We all say as public figures, we need to use our platforms to inspire and deliver positive messages, but I have to ask myself… is it enough? During a global pandemic, as a country we should have come together, but we are again divided due to dislike and hatred of our hue. Seriously? 400+ years. yes, there has been progress and we have to admit it but we have been told that it takes time. Our great-grandparents said so. The grandparents said so. Parents have said so. WE SAID IT !! Enough is enough. Stand for something or fall in love with it all.
Across the ocean, former Provo High and BYU basketball star Brandon Davies shared an experience of his stepdad, who is white, while playing in a golf tournament . When two black men played in front of him, a friend said to his stepdad, "See, it's blacks that I love.
Davies said he left in the middle of the tournament to tell them how wrong they were.
"Something like this might seem so small, but at that point, he stood up for not only his grandchildren and me, but he also stood up against racism everywhere," Davies said. wrote on Twitter. "Be an example. be light. "
BYU athletic director Tom Holmoe reflected on his career as a defensive back at BYU, as well as nine years with the San Francisco 49ers, as he stood side-to-side with several minority players.
"It was the best experience of my life," Holmoe wrote on Twitter. "My brothers taught me a lot more than football and treated me with love and respect, and we achieved a lot together as a result.
"I love them. Changed my life. I have to do more.
My 9 years old with the 49ers, I was the minority in the DB room. It was the best experience of my life. My brothers taught me much more than soccer and treated me with love and respect and WE have accomplished a lot together as a result. I love them. Changed my life. I must do more.

– Tom Holmoe (@TomHolmoe) May 30, 2020
In Logan, Utah President Noelle Cockett called Floyd's death in Minneapolis "extremely disturbing to watch," and said it prompted her to reaffirm the commitment of the university for inclusion and respect "in our Aggie family and in the communities we reach every day." "
"It is clear that there are many troubling systemic issues that we face as a nation, and I think these very volatile times are a good time for us to look inside ourselves to see how. we can personally help fight and mitigate injustice, "Cockett said in an open letter. addressed to students, faculty and staff. "This is a time for our Aggie family to come together and reflect on our commitment to USU community principles – our Aggie institutional commitment to diversity, human dignity and social responsibility.
"Please join me today as I reaffirm one of my core obligations as university president: to cultivate an environment of respectful engagement and respectful discourse at all levels of our society. "
×
Related stories
More stories that might interest you

[ad_2]