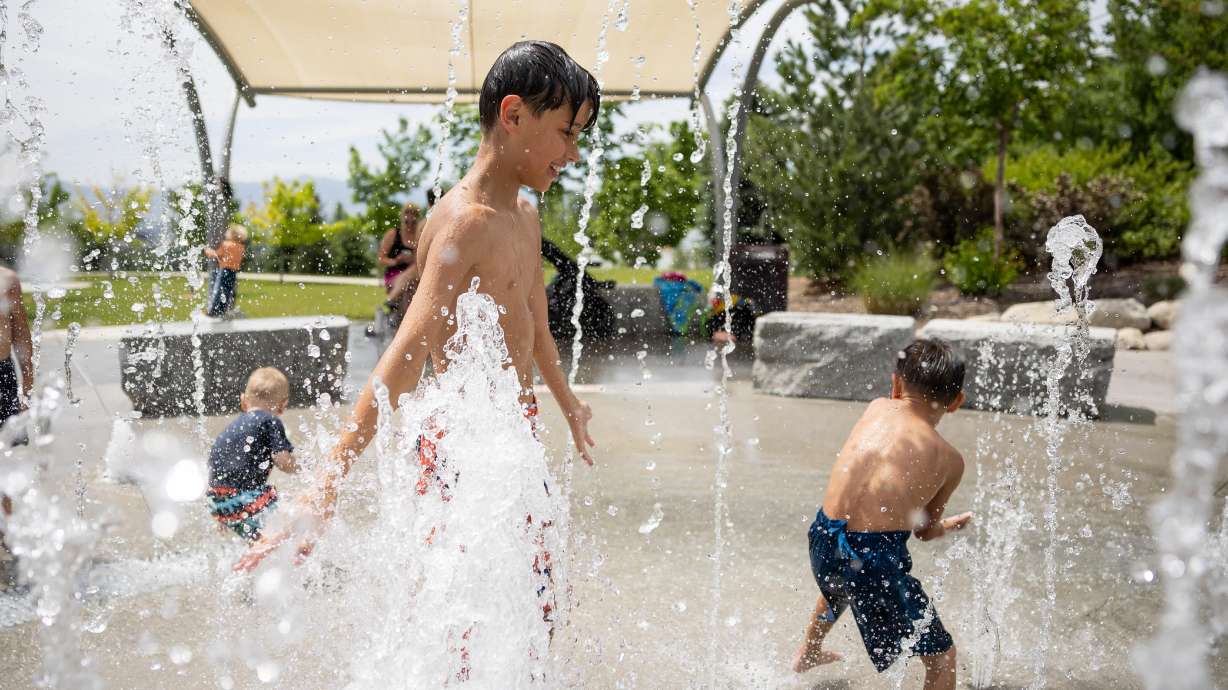 Utah Weather: Wasatch Front Heat Warning Issued; the monsoons increase
Dustin Perry, 9, center, and his brother, Dana Perry, 4, play in the water at the Park Amphitheater wading pool in Sandy on June 9. Most of the Wasatch front is listed in an excessive heat warning between Tuesday afternoon and Thursday evening. (Spenser Heaps, Deseret News)
Estimated reading time: 4-5 minutes
SALT LAKE CITY – Utah weather is everywhere this week.
The National Weather Service released a excessive heat warning for most valley communities along the Wasatch Front and in northern Utah, which takes effect Tuesday afternoon and remains in place until at least the end of Thursday. Meanwhile, agency meteorologists say other parts of the state could experience flash flooding due to monsoon moisture arriving in the state.
feel the heat
Monday was a sort of "cool down" for the Wasatch Front. The 97-degree high was the lowest temperature in Salt Lake City in 10 days, snapping a three-day streak of at least 100 degrees in the Utah capital.
KSL meteorologist Matt Johnson said the high-pressure system expected to arrive from the southeast is now over the state, and is fueling the warm temperatures expected Tuesday and through the end of the week.
The weather service's warning includes communities in the Salt Lake Valley north of Brigham City, as well as the Tooele and Rush valleys, eastern Box Elder County and the desert and mountains near Great Salt Lake. Federal meteorologists wrote that "dangerously hot conditions" with highs of 100 to 104 degrees are forecast for those areas between Tuesday and Thursday. Overnight temperatures are only expected to drop to the upper mid-70s during this time before the warning expires at the end of Thursday.
"Extreme heat will significantly increase the potential for heat-related illnesses, especially for those who work or participate in outdoor activities," the alert reads.
The valleys of Utah County are listed in a heat advisory, which indicates temperatures will not be as hot but warm enough to impact health. Highs in St. George will also top 100 this week, however, that's not nearly as unusual.
The weather service recommends that people:
Drink plenty of fluids.
Stay in an air-conditioned room, or at least out of direct sunlight, and watch relatives and neighbors. Wear light, loose clothing when possible.
Take extra precautions if you work or spend time outdoors, including possibly postponing strenuous activity until early morning or evening.
Never leave young children or pets in vehicles unattended under any circumstances.
Ask about relatives and neighbors who may be prone to heat-related illnesses.
Heat is not only a problem for people, but also for infrastructure. The Utah Department of Transportation reported excessive heat caused concrete panels to burst at the edge of a bridge at 11400 south and about 500 west on Sunday. The agency warned it could happen in other regions amid the current heat this week.
"When we get temperatures over 100 degrees, you're looking at pavement temperatures of 120, 125, 130. So what's happening is the concrete is expanding," said Jake Brown, supervisor of the region 2 south of the agency, at KSL. -TV on Monday.
The monsoons return
Meanwhile, monsoon humidity is expected to continue in parts of the state on Tuesday before strengthening Wednesday and Thursday, bringing scattered showers and thunderstorms over the next few days.
The The National Weather Service tweeted there are moderate chances of flash flooding, especially in slot canyons, dry washes, and fire burn scars in southern Utah.
The agency added that flash flooding is possible in all major parks in southern Utah over the next few days. The risk is listed as "likely" Wednesday at Capitol Reef National Park and the San Rafael Swell, as well as Grand Staircase-Escalante and Natural Bridges National Monuments. Flash flooding is also "likely" for most popular outdoor spaces in the region on Thursday.
"Make sure you check in with a local official, visitor center or ranger station before you go," the agency tweeted.
There is an increased risk of flash flooding for national parks and recreation areas in southern Utah. Be sure to check in with local visitor centers or ranger stations before you go and have a plan if threatening weather conditions are approaching. More than: https://t.co/7kgSJJ8aoF#utwxpic.twitter.com/XoVZtwpHPh

— NWS Salt Lake City (@NWSSaltLakeCity) July 12, 2022
This trend is also expected to continue throughout the week, eventually bringing pop-up storms to most of the state during the week, Johnson said.
Complete seven-day forecasts for Utah regions are available online at the KSL Weather Center.
×
Related stories
Latest Utah Weather Reports
More stories that might interest you